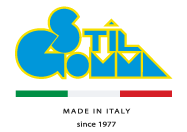 Quality certifications
StilGomma has been UNI EN ISO 9001 certified for over 20 years.The quality at the base of each labour of ours is synonym of responsibility and safety. Our definition of quality includes respect of product toward the environment, toward the cognitive heritage and toward the conservation of social welfare.

Besides, it also satisfies the customer concerning coherent and detectable aims and it allows the constant and innate improvement of every productive process.

We are careful to news in the manufacturing field, often introduced at events and exhbitions of the sector. StilGomma, which has always followed the path of quality, has obtained the Certification IATF 16949 in March 2019. An international standard able to further magnify qualitative factors of the company.

We have begun the necessary path to obtain ISO 14001 certification which represents the state of the art of the universally recognized organizational model for corporate environmental management.